I have recently updated my company's Lync infrastructure from 2010 to 2013.
The process went fairly well (see my original post for the problems I encountered during the installation).
I moved some users to the Lync 2013 pool, and added a 2013 edge server. Everything seemed to work fine, so I moved all users to the new pool, and thought all was good.
But then I noticed that Whiteboards and Polls in IM sessions and meetings were not working. Application and desktop sharing was working fine. I haven't tried Powerpoint sharing, because that requires an Office Web Apps server, which I haven't installed yet.
Neither internal nor external users were able to use Whiteboard or Polls.
The Lync clients gave an error message saying: "An error occurred while presenting". The detailed error dialog referenced error ID 16389 (source ID 0). Googling that error message gives a lot of suggestions, but none which apply to Whiteboard or Polls.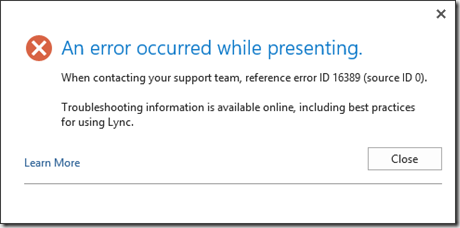 Adding logging on a Lync client and then trying to add Whiteboard to an IM session revealed an error message that included this response from the server:
500 The server encountered an unexpected internal error
ms-diagnostics: 3062;reason="Internal Error: getMcu failed";HRESULT="0x80004005(E_FAIL)";processing-cluster="frontendfqdn";processing-frontend="frontendfqdn";source-user-primary-pool="frontendfqdn";target-user-primary-pool="frontendfqdn";source="frontendfqdn";OriginalPresenceState="0″;CurrentPresenceState="0";
MeInsideUser="No";ConversationInitiatedBy="0″;SourceNetwork="0″;RemotePartyCanDoIM="No"
Not a lot to go on there either.
Time to go look at the Lync server logs. The message in the client event log gave an indication as which server component to look at: MCU. I added all MCU related components to the Lync server logging tool, started logging, and then tried adding Whiteboard to an IM conversation.
The Lync Server log from the DataMcuRuntime component logged this error:
TL_ERROR(TF_COMPONENT) [0]113C.0A24::12/19/2012-11:58:33.349.000015e7 (DataMCURunTime,DataProxies.ProcessResponse:1175.idx(601))(00000000011D9335)Failed poking Proxy error=[The underlying connection was closed: Could not establish trust relationship for the SSL/TLS secure channel.], type=[ExternalReachProxy], url=[https://frontendfqdn:4443/Reach/DataCollaborationRelayWebService.svc]
Hmm, a certificate on the external meeting web site is failing. I tried the URL in my browser, and got "Peer's Certificate has been revoked."
Taking a look at the certificates used by the Frontend server's external web site revealed nothing. IIS had a certificate installed, issued by the public CA we use, and IIS was happy about it.
The Lync deployment tool's Certificate Wizard looked like this:
The certificate in question is the checked one.
The certificate that I had installed during the installation was an old one, originally intended for the TMG that publishes the Lync web services site, and not at all intended for the frontend server's web site. Mistakes like this happen when working too late (as you can see, the other certificates were created Friday night…).
Changing the certificate to the same as the others, made the certificate error go away, but whiteboards and polls still didn't work.
Update 2013-03-08: I finally found the cause the the group IM, whiteboard etc. problem. The solution is described here.