In Denmark, the telephone operator TDC provides voice over IP subscriptions to business customers using the Broadworks platform by Broadsoft. The call the product TDC Scale or TDC One depending on the subscription type.
Broadworks has the ability to create voice response menus, hunt groups (they call them call centers), and other nice stuff to manage calls to and from the company.
I had a bit of a problem figuring out which file format to use when uploading voice prompts to the IVR and message boxes.
TDC Scale requires audio files to be in a format they describe as:
Format: CCITT u-Law
Attributter: 8.000 kHz, 8 bit, mono, 7 kbit/s
They even provide a screenshot from the Windows 2000 sound recorder settings. This was not very helpful to me – I use Windows 8 these days. I also use the excellent open source Audacity sound editing tool to record, edit and otherwise modify digital audio.
To make Audacity create a sound file in that format do the following.
IN the lower left hand corner of the Audacity Window, choose "Project Rate (Hz)" and select 8000.

For the actual track you want to save as WAV for TDC Scale, make these settings: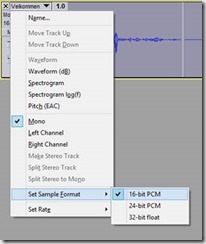 It is important to choose Mono and 16-bit PCM.
Then go to File -> Export.
Choose "Other uncompressed files" as the file type and click Options.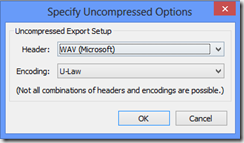 In there choose "WAV (Microsoft)" as Header and "U-Law" as the Encoding.
Click OK a few times to save the file.
Now you have a .wav file that can be uploaded to the Broadworks web portal.